Laminated wear blocks are unique and excellent, in that they have extremely wear-resistant quality and they are weldable, this material is a combination of high chrome white iron metallurgically bonded to a mild steel backing plate through a vacuum brazing process, the high chromium white iron has an extremely high hardness of brinell 700HB (63HRC) and mild steel backing plate makes them weldable and good impact resistance. Typical products including chocky bar, wear button, wear strips, wear plate, shredder hammer tips, and much more other wear blocks, they are available both in standard shapes and also customized sizes.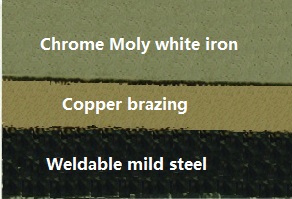 Advantages:
❶ Longer wear life when compared to conventional materials like AR quenched and tempered plates & clad plates
❷ Mild steel backing offers good weldability, machinability, and impact resistance, easy to install and maintain, can be welded in place, through-bolted, stud bolted, drilled, tapped, keyed.
❸ Chrome saturated white cast iron offers high wear and abrasion resistance, enable your equipment to work in harsh working conditions
❹ Increased production, reduce downtime and maintenance costs
Applications:
Laminated wear blocks are extensively used for wear protection in the Mining industry, Quarry industry, Cement industry, Dredging industry, Recycling industry and etc